Today is Friday.
Okay it's not really Friday but there's no work tomorrow so in a sense...it's Friday and I love it. I am so excited for the four day weekend. Four days to sleep in. Four days to do what I want. Four days to spend with AJ. We work opposite schedules. He's asleep when I leave for work, gone when I get home, and up all night while I'm dreaming away in my bed. Any other week, I get two full days with him and one evening. Thanks to ol' St. Nick, we get four full blissful days to spend with each other however we see fit.
How are you spending your Christmas weekend?
------------------------------------------
Today I was tagged by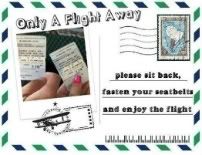 I always have fun doing them so here we go:
1.You must post these rules.
2. Each person must post 11 things
about themselves on their blog.
3. Answer the questions the tagger set for
you in their post and create 11 new questions
for the people you tag to answer.
1. I love to organize things.
2. I hate sleeping, it feels like a waste of time.
3. I wear the same 5 rings every day.
4. I can't stand it if my hands smell like food.
5. Caramel popcorn is my favorite treat.
6. I love love love to dance.
7. My favorite place in the world is Lake Powell.
8. I've visited 22 of the 50 states.
9. I work as an executive secretary.
10. I want to learn how to dye my own hair perfectly.
11. I've been to 12 countries.
1. What's your favorite cupcake flavor?
Chocolat and Peanut Butter frosting
2. Long or Short socks?
Long; to keep my legs warm
3. What are you plans for next year?
Travel; husband really wants to see Switzerland
4. What's in your purse right now?
chapstick, mouthwash, concealer, hairspray, bobby pins, sewing kit, eye drops, perfume, zip drive, memory card, lotion, gloves, yogurt parfait, wallet, keys, advil, cell phone, earphones
5. What's your favorite accessory?
my princess cut diamond studs
6. If you could change something about yourself, what would it be and why?
Be more humble and a better listener; those are both important things to have
7. Any piercing or tattoos?
one in each ear
8. High heels or flats?
heels for work and dates; flats everywhere else
9.What was your favorite childhood TV show?
Arthur
10. What is your greatest fear?
Becoming paralyzed or into a vegetative state
11. What was the last thing that made you laugh?
AJ texted me and said "Wow, that van barely fits in the garage. It rubs on the way in... ... Thats what she said."
1.
What's the bravest thing you've ever done?
2.
What's something you've always wanted to do?
3.
What's your favorite hobby?
4.
What's your current occupation?
5.
What's your favorite quote?
6.
Who is your role model?
7.
What's your favorite kind of music?
8. What's your biggest pet peeve
?
9.
If you had $1,000 what would you buy with it?
10.
What is your dream job?
11.
What is one of your new year resolutions?
--------------------------------------------------------------
Interested in Swapping Buttons?
Email me your 200x100 button at msncook[at]yahoo !